News and Events
News
Albion Historical Society "Centennial Celebration" to Honor Groups 100 Years and Older
Mark your calendars for the Albion Historical Society's Centennial Celebration on Saturday, August 5 (rain date August 12), at the Gardner House Museum. From 10 AM to 3 PM the mansion, lawn, and side street will be alive with music, food, crafts, demonstrations by quilters and spinners, and a petting zoo. More importantly, 100-year milestones will be celebrated for the Albion Public Safety, Michigan State Police, Albion Auto Mart, Cascarelli's of Albion, Starr Commonwealth, American Red Cross in Albion, the "Michigan Historical Society Magazine", and 100 years of selling Girl Scout Cookies!
Other attractions will include: a display on the West Ward School/Holland Park Transformation project by Bob Wall and Wes Dick, and a newly-enhanced upstairs exhibit dedicated to Albion's past police and fire departments.
Come join us for fun and an opportunity to learn more about Albion's great past. For more information, please call organizer Barb McAuliffe at 517-629-2879. This event is free and open to the public.
New LED Lamps Illuminate Museum Lawn
While most projects seem to take a long time to complete, the Martha Prescott memorial lights did not! If you haven't seen the new lamps all lit outside the museum, take a stroll some evening and come see them. The LED lights have photocell sensors so they go on as soon as it is dark outside.
A dedication ceremony is being planned for the Festival of the Forks. We are still working out details with Martha's family. Photo by Jim Seidl.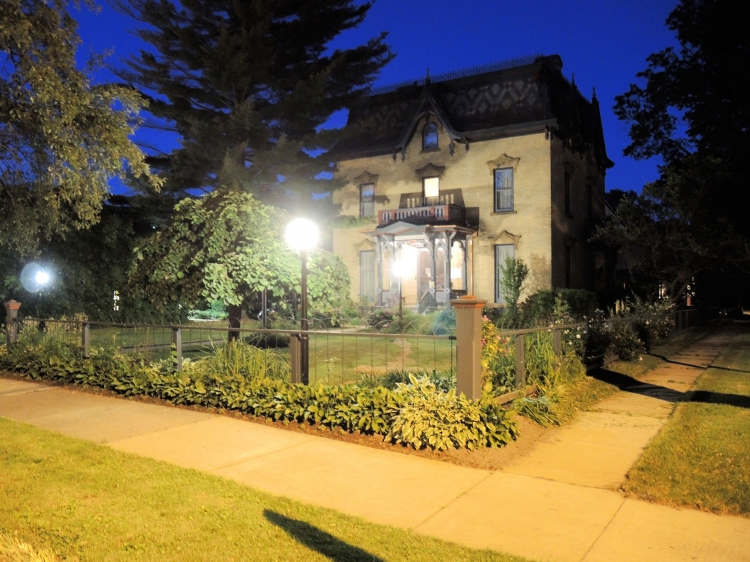 Upcoming Events
Museum is Open for 2017 Season
The Gardner House Museum is now open for the season. Visit the Victorian home on Saturdays and Sundays, 2-4 p.m., through the end of September. If you are interested in a private tour during the week, please call the museum well in advance for accommodations at (517) 629-5100. There is no admission fee and plenty of parking available on both sides of the museum. A handicap ramp is on the northeast side of the museum.
We're Now on Facebook
Visit us at www.facebook.com/albionhistoricalsociety. Visit our page for updates on events being held at the museum, special features, recent artifact donations, and much more.